Pep up a mid-week meal with this  really simple and delicious fiery prawn noodles.  You could substitute the prawns for chicken, but remember to check the chicken is cooked through.
Serves 4
2tbsp vegetable oil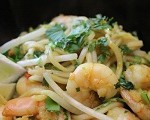 1 carrot cut into julienne (matchsticks)
225g Prawns (big fat juicy ones please!)
120ml chicken stock
2tbsp soy sauce
1tbsp mirin (rice cooking wine)
200g beansprouts
150g Pak choy
250g noodles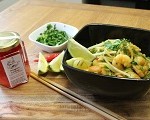 1 fresh chilli
Spice Paste
2 tsp Maggies Kitchen Fierce Chilli Jam
25g root ginger chopped
4 garlic cloves chopped
4 shallots chopped
1tsp turmeric
To make the paste put the paste ingredients into a blender and process until smooth. You could add a little oil to help with the blending.
Heat the oil in a wok then add the paste and cook for a few minutes.  Add the carrots and cook for 1 minute stirring all the time.  Then add the prawns and mix well.
Pour the chicken stock, soy sauce and mirin into the pan and cook on a medium heat for 2 minutes.
Finally add the beansprouts, pak choi and finally the noodles.  Mix well insuring all the ingredients are well coated in the lovely warm/hot sauce.
Garnish with sliced chillies, fresh coriander and lime wedges.
Enjoy!