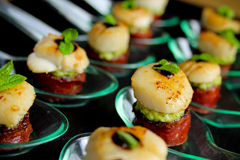 To eat is a necessity, but to eat intelligently is an art.
Francois de La Rochefoucauld
The day has arrived, the meticulous planning in place and now it's your turn to shine! Leave the work to us while we remove the stress from your event. Relax, enjoy time with your guests while we deliver platefuls of pleasure.
Whatever the celebration, we have a menu to suit. Browse the following pages for culinary inspiration. We are able to design a menu specifically for your event and advise on the perfect solution to help make your event a great success.
For more information or to arrange an appointment, call Maggie on 01252 705934. mobile: 07833593741