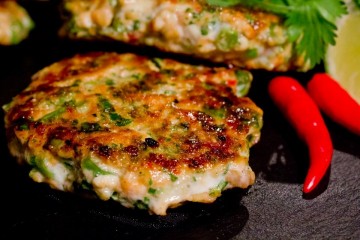 Fishcakes in the UK were traditionally a combination of leftover fish and potatoes, as featured in Mrs. Beatons cookbook from the 19th century. Whilst this type of fishcake is tasty enough, they can be somewhat heavy leaving you feeling full and ready to hit the sofa or bed.
Thai fish cakes are perhaps one of my favourite dishes to prepare and eat. This particular recipe uses few ingredients but offers big satisfying flavours. They are equally delicious served cold in a summer picnic, or as a canapé if made a little smaller and served with a devilishly hot chilli dip. I quite like them with a big bowl of green salad as a light lunch. They can be made as hot as you dare go, personally I like that unique chilli tingle sensation. However you decide to serve them, this recipe is guaranteed a sure fire success.
I tend to make mine with salmon as its readily available and relatively cheap, having said that any inexpensive white fish would work just as well. They're dairy and wheat free making them a great alternative for any guest with these particular intolerances.
Ok, so I'm not being strictly purest here, but when time is of the essence I use ready minced lemongrass which I find pleasantly aromatic and tasty, so a little cheating won't send your lunch guests into an apoplexy of disappointment, and if it does…well then, choose nicer guests!
You can buy Naam Pla in most forward thinking supermarkets now, however it's much more fun to wander around the abundant ethnic shops and markets we are lucky enough to have in the UK to stock your cupboard with all the necessary ingredients.
Ingredients:
454g Raw boneless, skinless Salmon fillets
3 Cloves garlic
1 table spoon Lemongrass
3 fresh Thai red chillies (or more!)
1 tsp Nam Pla (fish sauce)
Green beans (small handfull)
Coriander (big bunch
Lime juice x 1
Preperation:
Cut the salmon into small chunks ready for blending.
Blend the garlic, chilli, lemongrass and coriander until fairly fine.
Add the salmon and pulse until it to a course blend and mixed with the other ingredients.
Tip into a bowl and add the nam pla and a good squeeze of lime.
Cut the green beans into 3mm rounds and add to the bowl.
Season then fold all the ingredients together until well mixed. Form into a patty shape of your desired size.   A note of warning! The Nam Pla is salty so be a little careful when you season the fishcakes…you can always add more, reducing salt is a little harder.
Cooking:
Heat a little vegetable oil in a hot pan and fry a sample of your fishcake to check the seasoning. If you're happy fry the fishcakes until brown on both sides. I would keep an eye on them at this stage, they can easily burn. So no wandering off to check your Facebook! How long you fry them depends on how big you have made them. The canapé size is generally 30 seconds on each side. Ideally you want the salmon to be pink inside. If larger fishcakes are required, cook until browned on both sides on a lower heat. You could then pop them into a warm oven to finish off. Serve with lime wedges.
Enjoy!